A/C Maintenance, HVAC Service & HVAC Installation

in Wheat Ridge, CO

Tradewinds Heating And Cooling, Inc.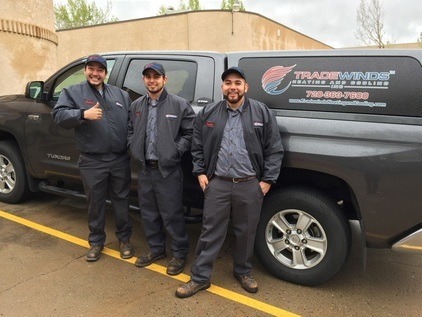 ​We have been serving the Denver Metro area since the year 2000 and we will continue to offer trustworthy and reliable service for years to come. We are family owned and operated and strive to provide great customer service to all of our customers. We specialize in new installation of energy efficient furnaces and air conditioner systems, installation of indoor air quality products, and maintenance and repair of all makes and models.
Here at Tradewinds Heating And Cooling, Inc., we take the extra time and effort to make every customer happy. We educate our customers on the specifics of every system and find the best one that will fit you and your families needs and personalized budget. Providing value for you is something that we take seriously and our professional service technicians are trained to get the job done correctly, while providing you with the peace of mind and comfort you deserve.
Our A+ rated business with the Better Business Bureau of Denver/Boulder has also partnered with the leader in home heating and cooling equipment, Bryant. With more than 100 years of experience, Bryant delivers a full range of durable heating and cooling systems so you know you can trust the product we are installing, servicing, and/or repairing.
​
Tradewinds Heating And Cooling, Inc. technicians are NATE (North American Technician Excellence) certified and use the most current technology to guarantee your system is working at the highest efficiency. We will do everything that we can to make you feel comfortable trusting us and the work that we do. For great service for all your heating and cooling needs, call and talk with our professionals from Tradewinds Heating And Cooling, Inc. today!
BRYANT HISTORY
It takes Over 100 Years of Experience
The tradition Charles Bryant started more than a century ago is about more than heating and cooling. It's about earning the trust of customers across the country by taking care of their indoor comfort needs.
Our family of hard-working products includes a wide range from furnaces to air conditioners and everything in between. And those products are unmatched when it comes to quality, durability, and reliability. In fact, from our early gas-fired boilers to today's home comfort technology, our standards have remained the same: dependable, hard-working comfort.
Value for homeowners has always been a driving force behind Bryant designs and technology. From the development of the 80% efficiency boiler to adapting to the ever-changing market by offering smart technology and more, Bryant has a history of being committed to providing a wide range of products that meet homeowner needs and exceed expectations.
For over a century, Bryant has been developing and delivering reliable products, 100% run-tested before leaving the factory, to be installed right, by a qualified, experienced Bryant Dealer like Tradewinds Heating And Cooling, Inc. who is dedicated to customer satisfaction. Whatever It Takes.
Since 1904, we have been building on the foundation of quality and reliability that Charles Bryant founded Bryant Heating & Cooling on. We strive to go above and beyond, both in the lab and in the home, to bring you the customized home comfort solutions you deserve. To us, it's not just about heating and cooling, but providing products you can rely on and service you can trust. Contact us today at 720-400-8404.
Bryant. Whatever It Takes®.
Heating Service

∴

A/C Maintenance

∴

HVAC Service

∴

HVAC Installation ∴ Wheat Ridge, CO